ISKCON Scotland is the Scottish branch of ISKCON (International Society for Krishna Consciousness) also known as the Hare Krishna Movement. ISKCON was established in the west in 1966. It has its roots in India from a very respected ancient spiritual Vaishnava tradition also known as Bhakti Yoga. 
ISKCON today is a worldwide confederation of more than 400 centers, including 60 farm communities, 50 schools and 90 very much loved restaurants.
​
ISKCON's Food for Life Global is the largest food relief programme in the world and has distributed 6 billion plates of free food since its establishment.
​
ISKCON's Bhaktivedanta Book Trust has printed over 520 million books on Bhakti Yoga in 87 languages. 
​
The Scottish branch of ISKCON was registered as a charity in 1989. ​Since our launch we have been working hard to promote various causes. Although we feel we are already making a significant impact, there is always more that can be done to help those in need.
OUR VISION AND MISSION
Our vision is to see local communities where
1) the wellbeing of people and the planet is at the centre
2) lifestyles, peace of mind, physical health and happiness are sustainable
3) physical and mental suffering is reduced.
​
Our mission is to help to harmonise and satisfy the needs of our physical, mental and spiritual aspects through yoga, meditation, wisdom and creating environments and communities  where this harmony can flourish. 
OUR PHILOSOPHY
We draw inspiration from the ancient texts of Bhakti Yoga such as Bhagavad Gita, which has been appreciated by some of the greatest thinkers of the world such as: Albert Einstein, Arthur Schopenhauer, Erwin Schrodinger, Ralph Waldo Emerson, Henry David Thoreau, Aldous Huxley, David Bohm and many others.
The fundamental teachings of the Gita are:
1) We are not human beings who have spiritual experiences, but spiritual beings who have human experiences
2) True equality is possible on the spiritual platform as it goes beyond the differences of  nationality, religion, gender, etc.
3) Education is incomplete without value and character development
4) The most fundamental need of every being is to love and to be loved.
Our values are commitment, conscientiousness and utilising an innovative approach to improving the lives of people in need.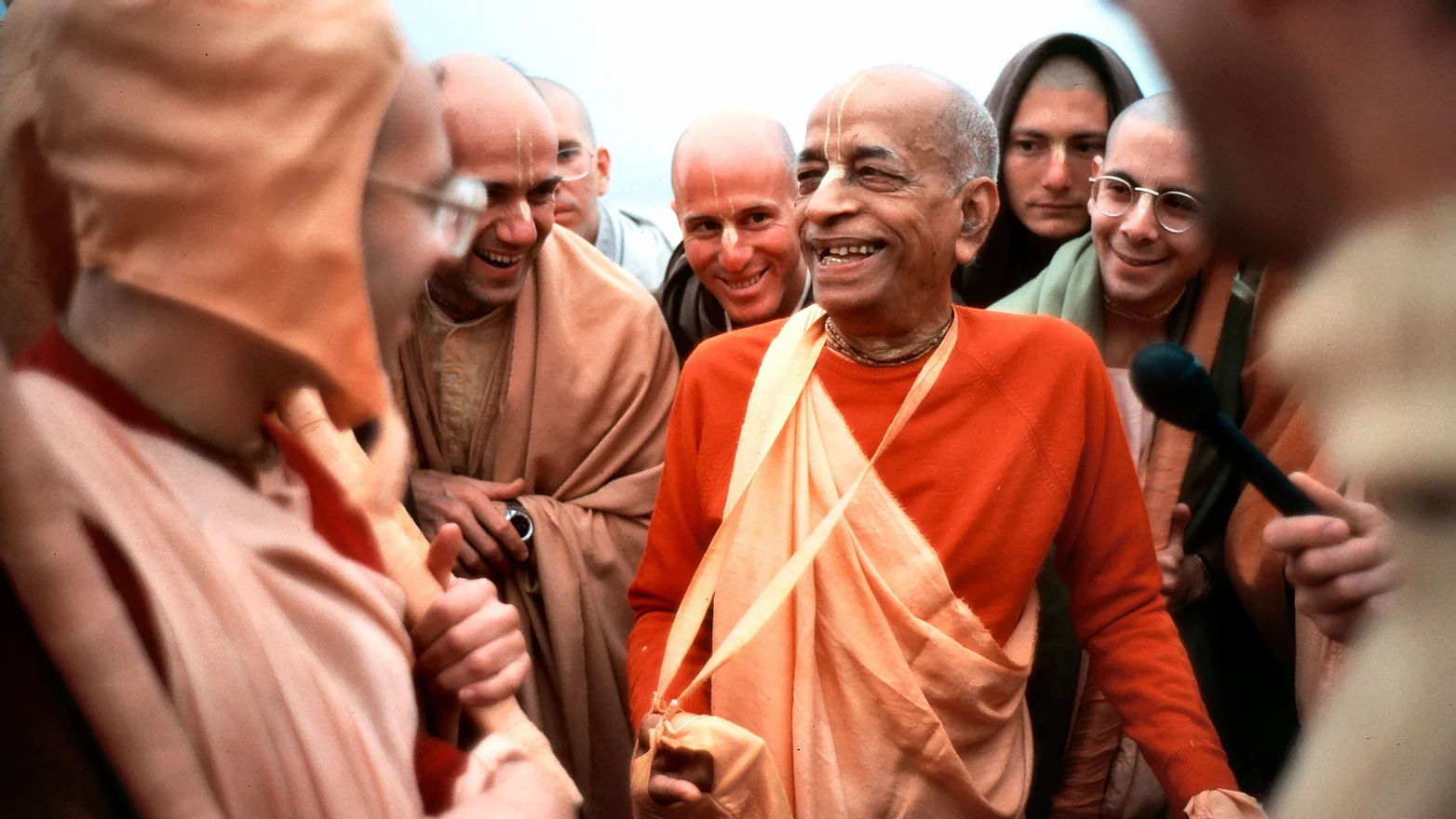 OUR FOUNDER
ISKCON was established in New York by His Divine Grace A.C. Bhaktivedanta Swami Prabhupada who at the age of 69 came to New York in 1965 and in twelve short years:
1) established a thriving international organisation
2) wrote over 70 books on Bhakti Yoga appreciated by scholars around the world for their authenticity and depth. He published 60 million books in 25 languages.
3) established farm communities, restaurants and 108 centres across the world
4) introduced the world to maha mantra meditation
His vision remains relevant today because it has inspired self-sufficient communities who live in harmony with nature and cultivation of spiritual values. It is compassionately helping people across the world to find a deeper purpose and sustainable happiness.
CONTACT US
Karuna Bhavan, Bankhouse Road, Lesmahagow, Lanark ML11 0ES, UK