We would like to give a big shout-out to our Food for Scotland driver volunteers. Without their essential work, we would not have been able to deliver on average 400-500 meals every week. The service delivers hot meals to local communities three days a week without fail.
Food for Scotland team cooked and delivered a fantastic number of 2039 plant-based meals in March! All this was possible with the team effort of our cooks, social media & leafleting teams, and our volunteer drivers – Frances, Anna, Bobby & Grace, Vivienne, Colin, Niamh, Stephen, Ellie, Michelle, Vivienne, Catherine, Ross, and Sophie. This is what some of our volunteers had to say about their experience: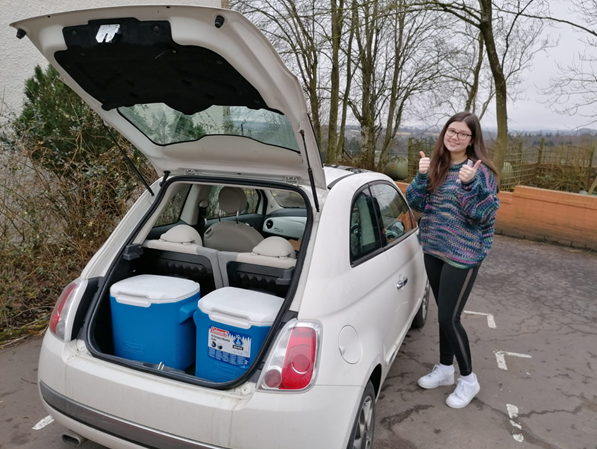 I decided to start volunteering in my free time as I know how difficult the past year has been for many people. Helping out with Food for Scotland makes me feel really good as I know I have helped people and made them happy. It is a great organisation and I am so glad I reached out to volunteer. I'm 19 and currently on a year out from university, where I study Law. I live in Blackwood. The people I meet through volunteering are all very different and have their own stories, some are older and live alone and some have young families. But they are all really grateful and happy when I drop off food to them. I talk to them all when I drop off food and form some really nice friendships with them (Anna).
I'm from Lesmahagow and I'm 53 years young. I'm a driving instructor, at the moment unable to work due to Covid 19 restrictions. I read about the Food for Scotland on Social Media and I saw that they were looking for Volunteer Drivers. I applied and was given the opportunity to join their team to deliver food and other treats to people in and around the surrounding areas. I love meeting and chatting with people, and when Food for Scotland gave me the chance to help out, I've met some beautiful people. I enjoy our chats when I go to their doors (Frances).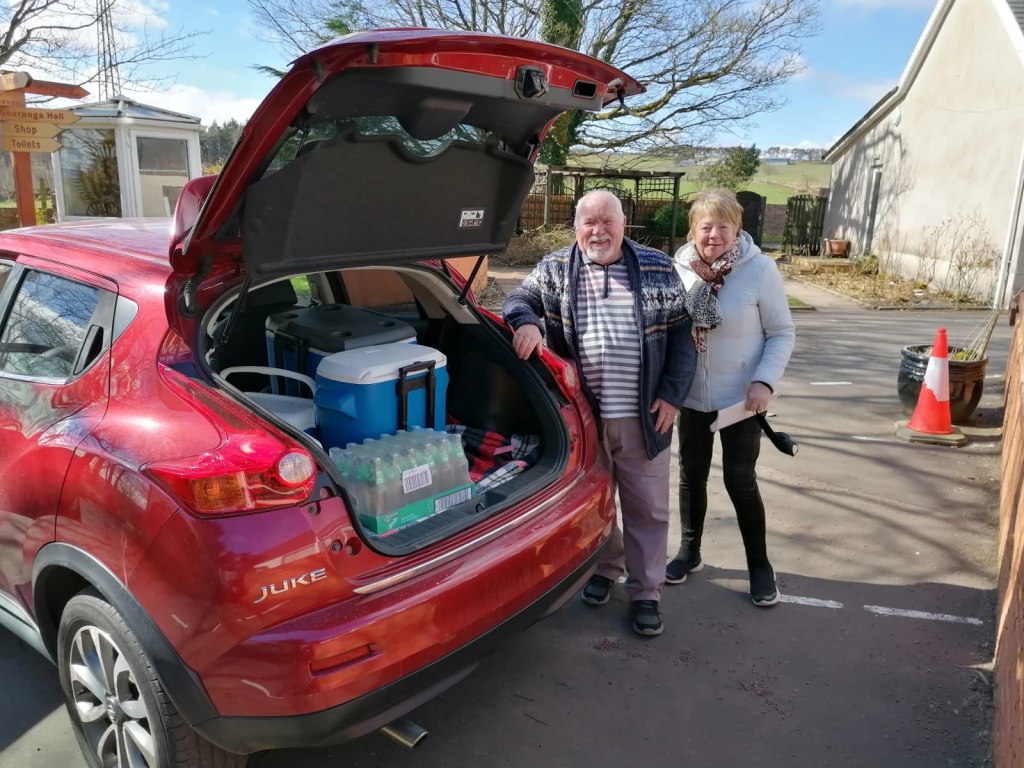 Grace and I are now both enjoying our retirement after a lifetime of working, both of us are in our mid-sixties trying to keep as active as possible. We thoroughly enjoy walking our dogs daily in Larkhall where we live. We were first told about yourselves by our daughter, who keeps an eye on one of her elderly customers, and requested for him to be included in your meal service. She mentioned what you do and, when we looked on your Facebook page, noticed you were looking for volunteer drivers. Little inspiration was required, we both realised that with minimal effort from ourselves we could help people less fortunate than us. A nice drive delivering food definitely beats sitting around in the house under Covid restrictions. We both enjoy meeting new people, especially some of the more elderly customers, some of whom, I'm sure, look forward to our visit and having a wee chat with us ( Bobby and Grace).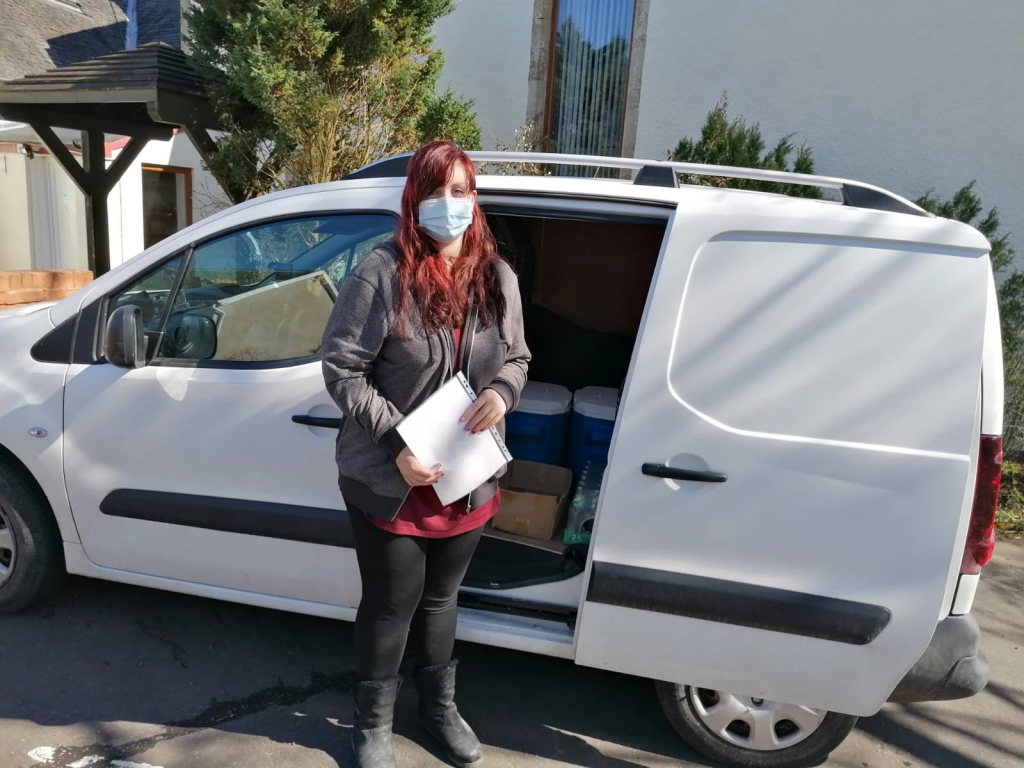 I'm a chimney sweep and one of my favourite parts of the job is meeting new people every day, but after having a baby in December I don't work quite as much as I used to at the moment. I had never heard of Food for Scotland before but after seeing the ad on Facebook for a volunteer, the main reason I offered is because there's no reason I couldn't. I had the spare time, a vehicle, and even with my son in the van it gets him to take a nap for a short while for which I am eternally grateful! Having a hot meal delivered makes some people's days, I find some people are already waiting with the door open before I even get to knock! And that makes my day!
Once again, a big THANK YOU for all your immense help! We also want to thank Hugh Fraser Foundation and Winter Social Wellbeing Fund (Glasgow) for supporting our project.
We are delivering meals in Carluke, Lanark, Lesmahagow, Larkhall, Blackwood, Kirkmuirhill, Rigside, Douglas & Coalburn areas. You can book a free meal delivered straight to your home by clicking here.