Our Orchard has 46 apples & plums trees in total – and a field of strawberries! Our trees have been giving us fruit for the last 20 years and we had a good harvest last year. We got about 5 wheelbarrows worth of apples! Some of them we wrapped up in newspaper to store for use later in the year, some we used in our apple crumble making marathon and others went into our apple and cinnamon jam. We used an old Romanian recipe that one of our volunteers shared with us. You can see her in the photos below. Our head-gardener Steve used some of these apples to top up the fruit bowl for the monks and we also sliced, dried and added the apples to breakfast porridge.
We also have half a dozen of red plum trees, which give us very sweet and ripe fruit – nothing like the ones in the supermarket. And when they are grown with love, they become even more sweeter and tastier!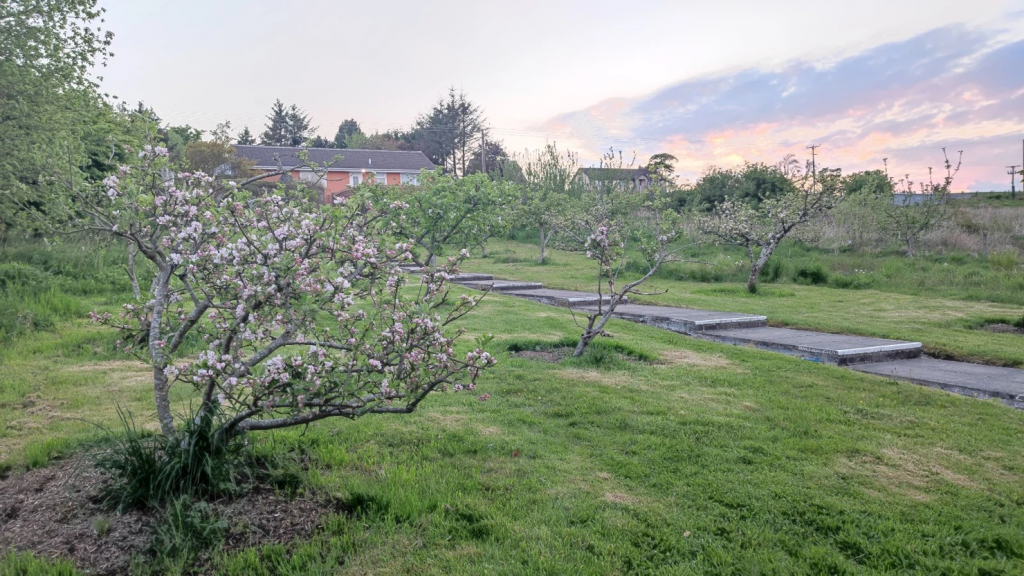 A good harvest depends on pruning, feeding the trees around the root, protection from the wind – especially when the trees blossom, otherwise the flowers won't get pollinated and won't turn into fruit. We've been growing willow trees on the north side of the orchard which will act as a windbreak to protect our trees and guarantee us a good harvest again this year.
40 of our apple trees were planted in the year 2000 and about 6 years ago by Bhaktivinode Das, who was our head-gardener for many years. We've recently planted 6 more apple trees in our walled garden. The varieties that we have are Eggremont Russet eating apples, some Lane Prince Albert and Cox cooking apples, Tydemans Early Worcester, Keswick Codlin, Discovery which is another eating apple variety and Sturmer Pippin dessert apples. Our James Grieve eating apples are a local Clyde Valley variety. This region is a famous apple-growing region, having grown apples for hundreds of years. Here in the Nethan Valley we aren't as sheltered from the elements, so we are very happy to be growing such a strong and sturdy variety. We are lucky to have friends in the Clyde Valley who give us apples and plums in exchange for our work for them.
A few years ago we had an expert in our orchard, a devotee Prithu Prabhu, who has been working in a commercial orchard in Northern Spain for the past 10 years. He gave us loads of good advice and we are very grateful for all of his help.
Have a look through the photos from last year harvest below. We'll post another update in the autumn about our harvest and how the fruit has turned out this year!